December 1, 2016 - 1:43 pm
by Nandi Bear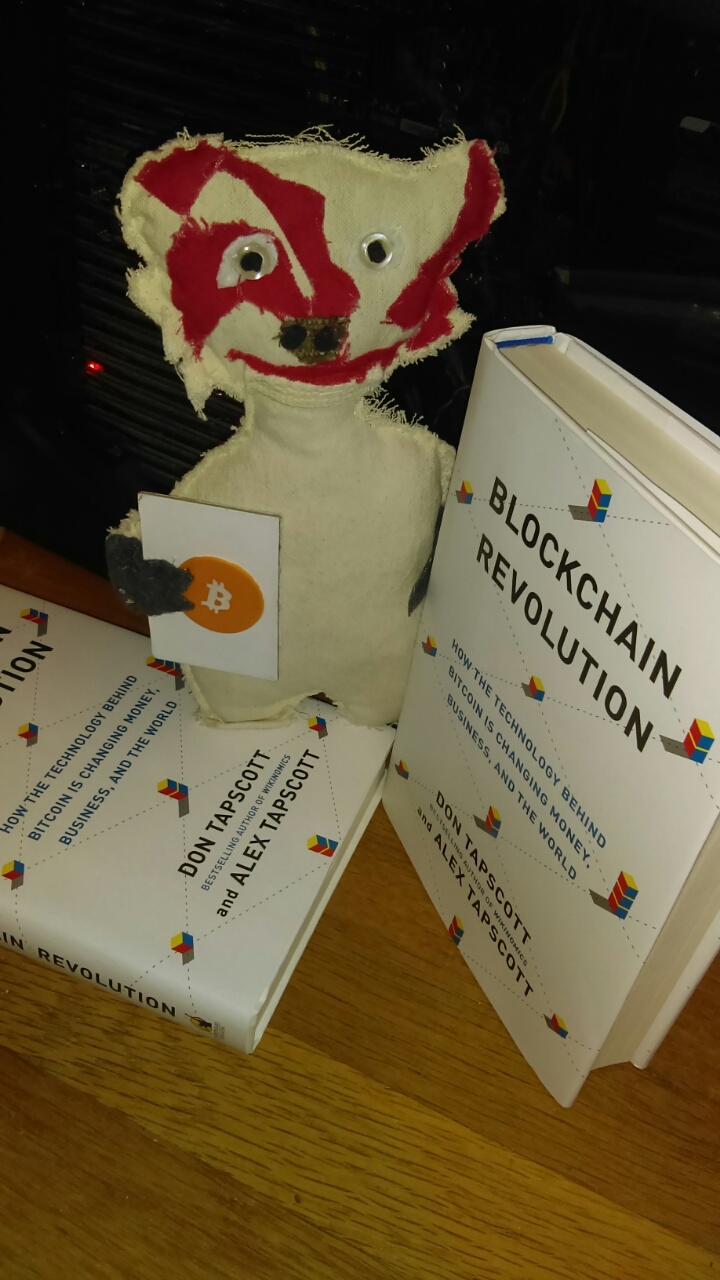 The Nandi Bear is busy with Bitcoin and has recently acquired a couple of brand new copies of the relatively new (2016) book - Blockchain Revolution: How the Technology Behind Bitcoin is Changing Money, Business, and the World
Authors are Don Tapscott & Alex Tapscott. For a free copy please contact us (w/ shipping address).
Alternatively, and preferably, you may also contact NandiBear at Roger Ver's Bitcoin.com Forum
We probably wont be doing a review of this book but we welcome reviews from anyone who visits Nandibear.com. You can link your review to any matching title (look for passport #) by logging in and going to Write Book Review.
Keep an eye on this book's passport: 2016001249
Continue reading →
---
---
November 29, 2016 - 10:38 pm
by Nandi Bear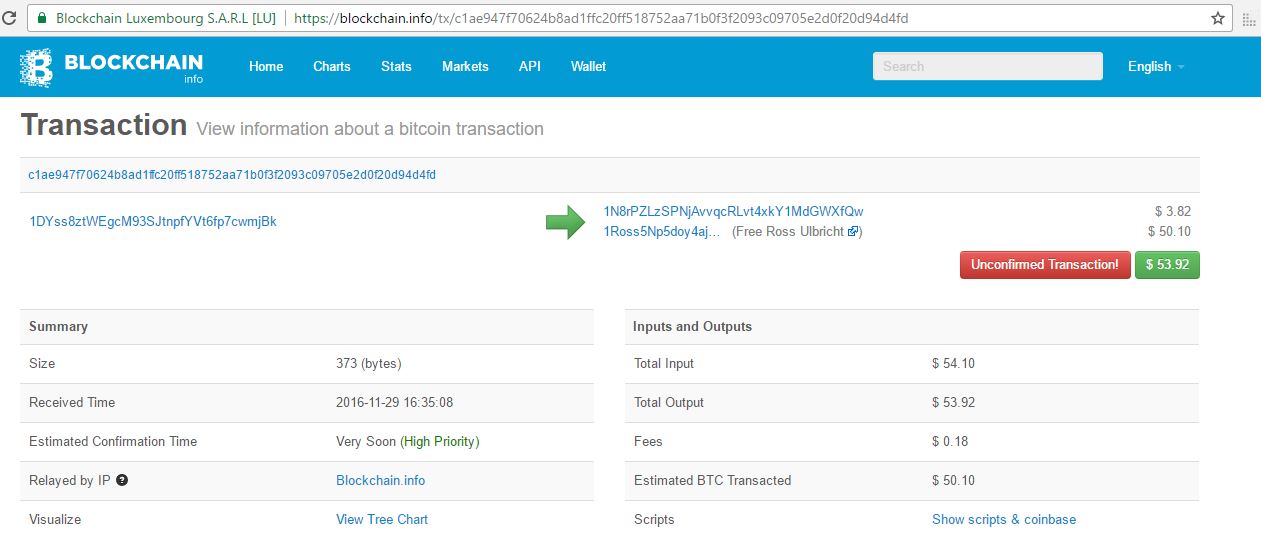 Ross Ulbricht is serving a life sentence without the possibility of parole (convicted in 2015) for creating and developing a .onion website (http://silkroad6ownowfk.onion) which could only be accessed with Tor.
There's an upcoming webinar called the Free Ross-A-Thon and Ross' mother Lyn Ulbricht is asking for donations to cover court appeal related fees. The fees come to about $14000.00 US dollars and appear to be for the printing and binding of appeal related documents (take a look at an image of the bill).
Earlier today the Nandi Bear sent a small 0.0685861
Bitcoin (or $50.00 US dollars) donation to help free Ross Ulbricht!
Please register for a free link to the livestream of the Free Ross-A-Thon webinar which is scheduled for December 4th, 2016 between the hours of 2:00 thru 10:00 pm EST.
Speakers at event include, though are not limited to, Roger Ver of Bitcoin.com, Alex Winter director of the film Deep Web, Calla Ulbricht – Ross' sister, Kirk Ulbricht – Ross' father, Lyn Ulbricht – Ross' mother, Jesse Ventura and Jeffrey Tucker.
Lastly please (please!) send a Bitcoin donation to help free Ross at 1Ross5Np5doy4ajF9iGXzgKaC2Q3Pwwxv
Continue reading →
---
---
October 9, 2016 - 5:06 pm
by Nandi Bear
Bitcoin book review (episode 2) - Decentralized Applications: Harnessing Bitcoin's Blockchain Technology by author Siraj Raval.
Siraj introduces readers to the brave new world of DAPPS (Decentralized Applications). Siraj is an advocate of IPFS (Interplanetary File System) and recommends using it for building DAPPS.
The Nandi Bear is giving away ten (10) brand new 1st Edition copies of Siraj's book Decentralized Applications -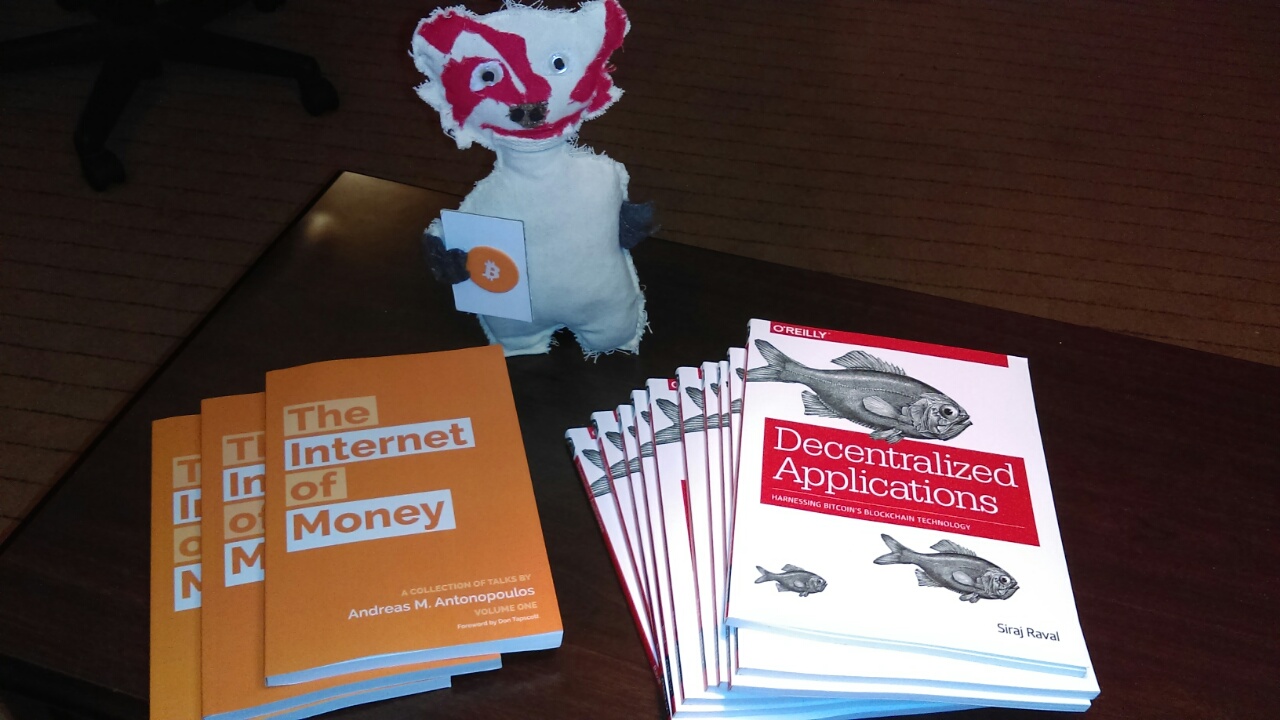 If you'd like one of them please contact us with your shipping address.
Alternatively, and preferably, you may also contact NandiBear at Roger Ver's Bitcoin.com Forum
If you've enjoyed today's episode of the Bitcoin Book Review please send a Bitcoin donation to NandiBear.com at our address:
1DYss8ztWEgcM93SJtnpfYVt6fp7cwmjBk
Nandibear.com is a website where books can be tracked as they travel the planet. Your Bitcoin donations help us with further development of the site and with creating video book reviews.
NOTE - MISTAKES IN VIDEO - (1) Interplanetary File System is incorrectly referred to as the International Planetary File System (2) IPFS.io is incorrectly referred to as IPFS.org (which is an unrelated site)
Continue reading →
---
---
April 15, 2016 - 9:13 pm
by Nandi Bear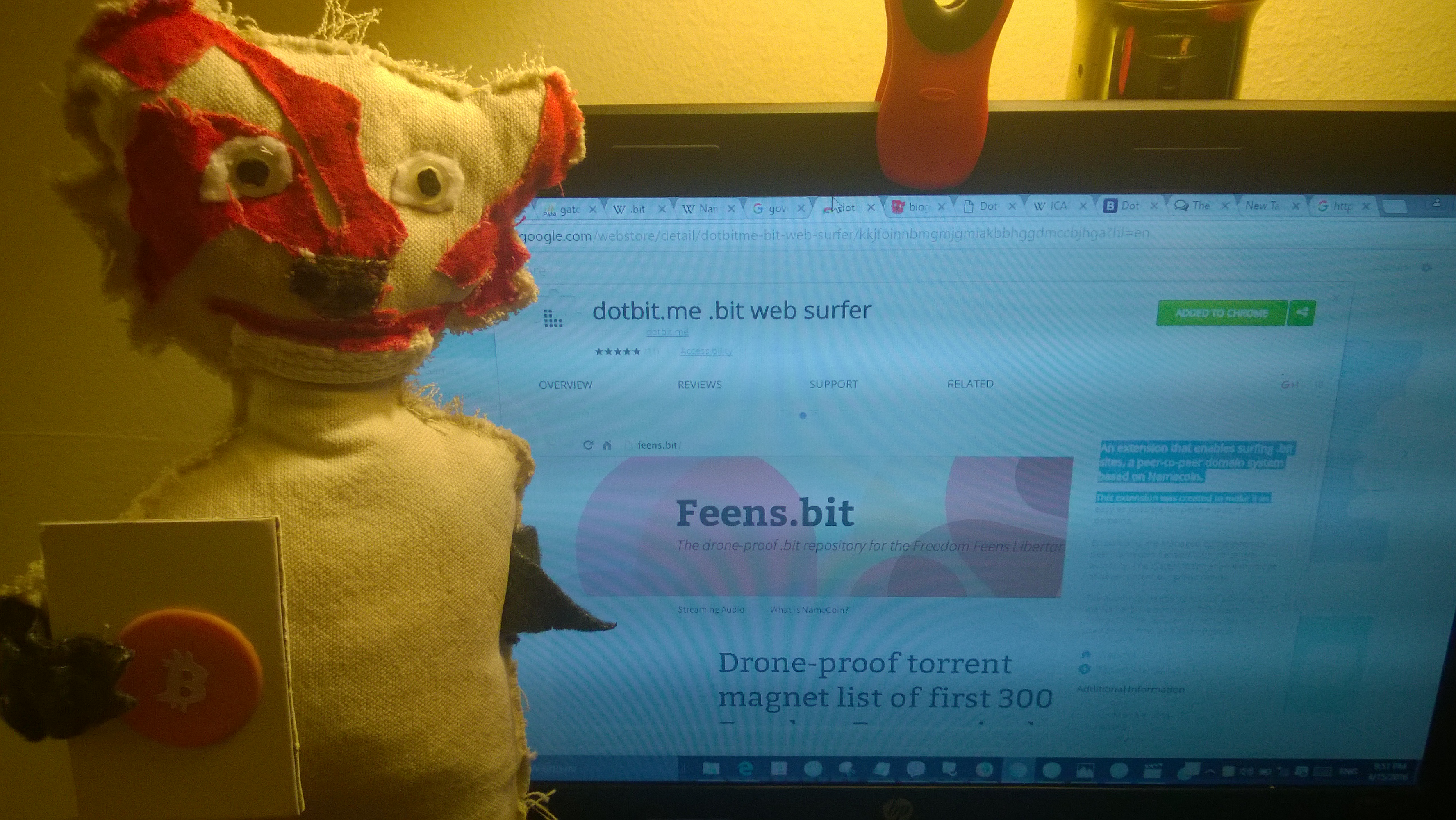 You may have heard of the decentralized .bit domain but have you been able to access and view .bit websites in your browser?
.bit decentralized domain names cannot be governed or controlled by ICANN Internet Corporation for Assigned Names and Numbers and as I understand it cannot ordinarily be accessed in Firefox, Internet Explorer (Microsoft Edge) or Chrome.
.bit domains are served by the Namecoin crytocurrency blockchain and cannot be censored or removed by government law enforcement agencies or other parties.
At some point in 2014 a browser plugin or add-on called freespeechme was released for Firefox (and compatible with Windows and Linux) which apparently made it possible to access and view .bit websites. I haven't been able to successfully and effectively use the add-on for Mozilla Firefox but readers are welcome to take a look for themselves:
bit.namecoin.org and dot-bit.org
The only uncomplicated method that I've ascertained to be effective for browsing .bit domains without downloading and running the Namecoin blockchain, or viewing them through another site's server, is a Chrome extension called dotbit.me .bit web surfer:
I want to note here that the Chrome extension hasn't been updated for approximately two years (i.e., March 9, 2014).
Continue reading →
---
---
Pages:
First
Previous
1
2
3
4
5
6
7
Next
Last