October 9, 2016 - 5:06 pm
by Nandi Bear
Bitcoin book review (episode 2) - Decentralized Applications: Harnessing Bitcoin's Blockchain Technology by author Siraj Raval.
Siraj introduces readers to the brave new world of DAPPS (Decentralized Applications). Siraj is an advocate of IPFS (Interplanetary File System) and recommends using it for building DAPPS.
The Nandi Bear is giving away ten (10) brand new 1st Edition copies of Siraj's book Decentralized Applications -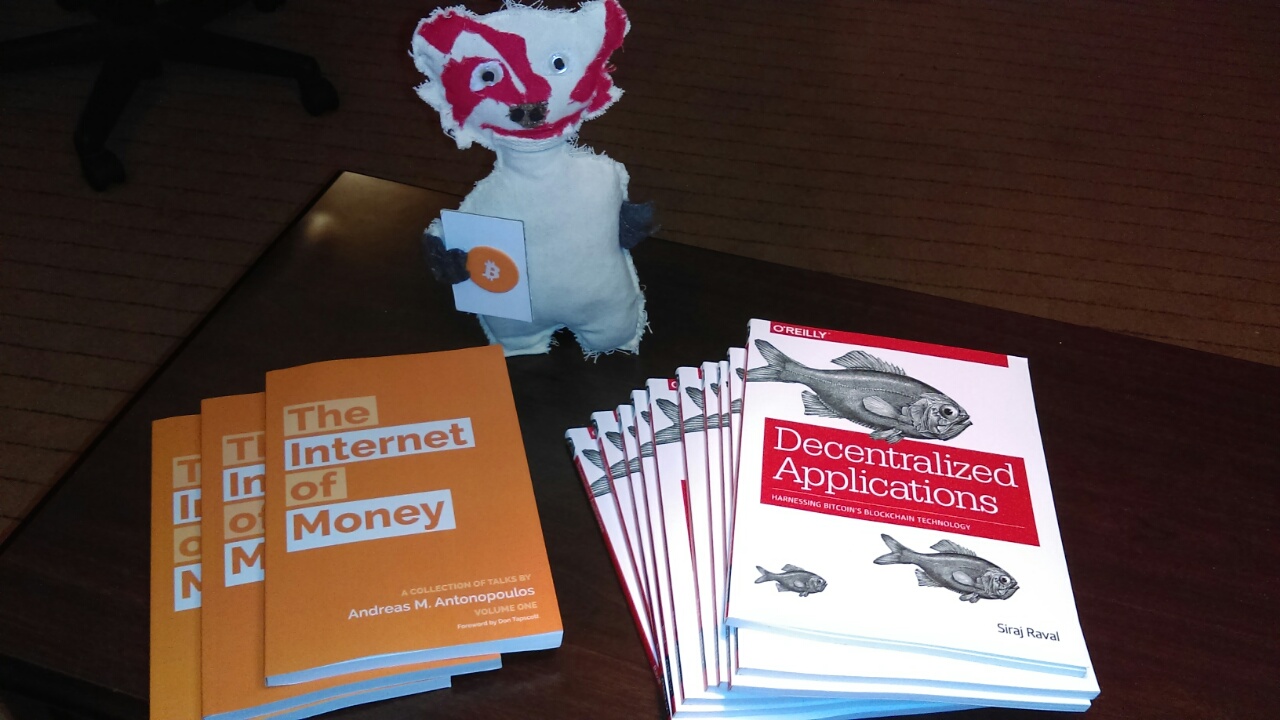 If you'd like one of them please contact us with your shipping address.
Alternatively, and preferably, you may also contact NandiBear at Roger Ver's Bitcoin.com Forum
If you've enjoyed today's episode of the Bitcoin Book Review please send a Bitcoin donation to NandiBear.com at our address:
1DYss8ztWEgcM93SJtnpfYVt6fp7cwmjBk
Nandibear.com is a website where books can be tracked as they travel the planet. Your Bitcoin donations help us with further development of the site and with creating video book reviews.
NOTE - MISTAKES IN VIDEO - (1) Interplanetary File System is incorrectly referred to as the International Planetary File System (2) IPFS.io is incorrectly referred to as IPFS.org (which is an unrelated site)
Continue reading →
---
---
April 15, 2016 - 9:13 pm
by Nandi Bear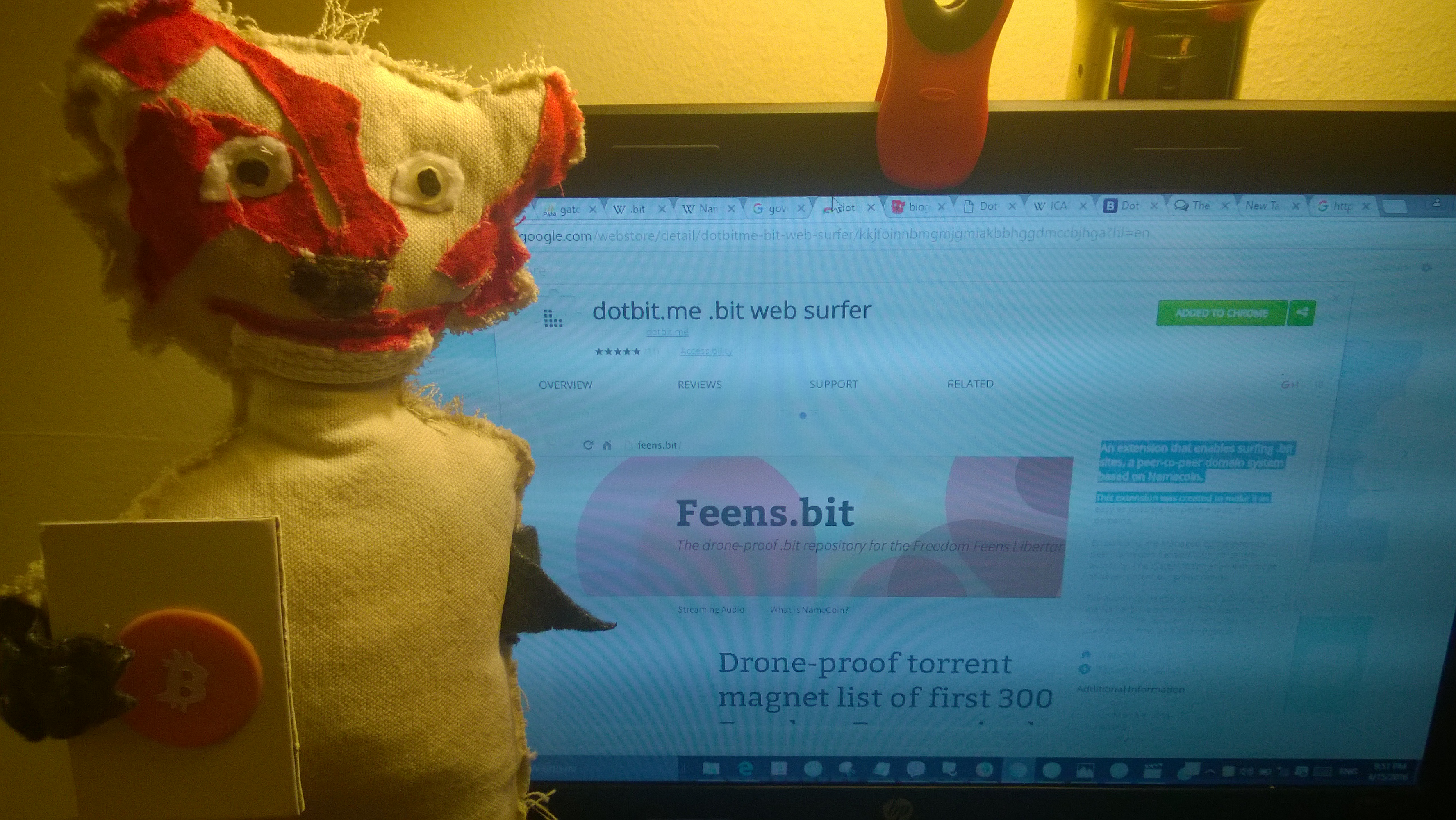 You may have heard of the decentralized .bit domain but have you been able to access and view .bit websites in your browser?
.bit decentralized domain names cannot be governed or controlled by ICANN Internet Corporation for Assigned Names and Numbers and as I understand it cannot ordinarily be accessed in Firefox, Internet Explorer (Microsoft Edge) or Chrome.
.bit domains are served by the Namecoin crytocurrency blockchain and cannot be censored or removed by government law enforcement agencies or other parties.
At some point in 2014 a browser plugin or add-on called freespeechme was released for Firefox (and compatible with Windows and Linux) which apparently made it possible to access and view .bit websites. I haven't been able to successfully and effectively use the add-on for Mozilla Firefox but readers are welcome to take a look for themselves:
bit.namecoin.org and dot-bit.org
The only uncomplicated method that I've ascertained to be effective for browsing .bit domains without downloading and running the Namecoin blockchain, or viewing them through another site's server, is a Chrome extension called dotbit.me .bit web surfer:
I want to note here that the Chrome extension hasn't been updated for approximately two years (i.e., March 9, 2014).
Continue reading →
---
---
March 27, 2016 - 10:13 pm
by Nandi Bear
Apparently the Nandi Bear is an adept and talented climber because he was spotted at a height of approximately 150 feet above the ground while having a discussion regarding the Nandibear.com site and Bitcoin.
What was captured of the Nandi Bear on video is roughly a minute or so in length and the information provided was helpful and distinctively concise.
Below are a couple of additional pics which the Nandi Bear so graciously permitted us to make use of: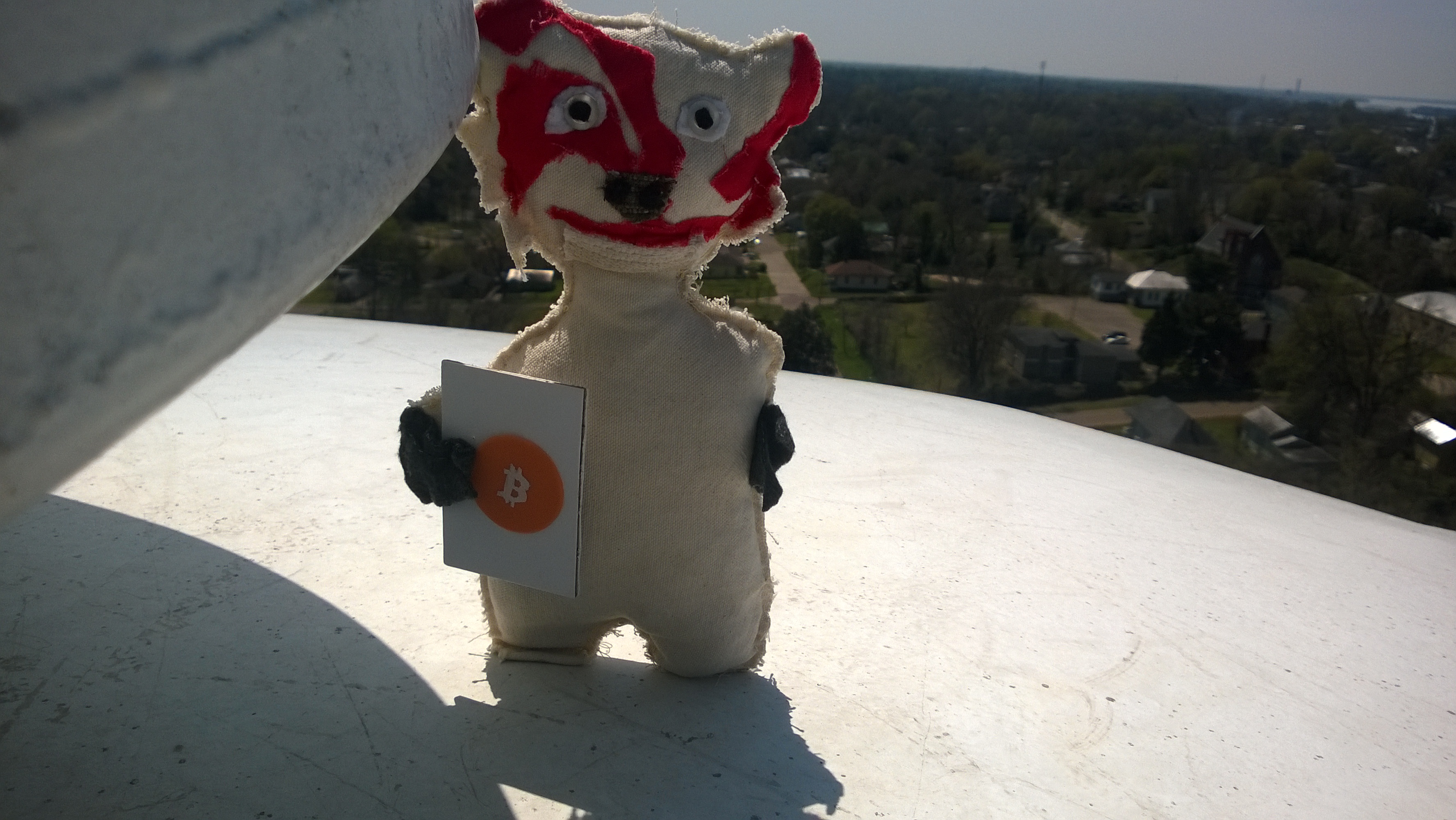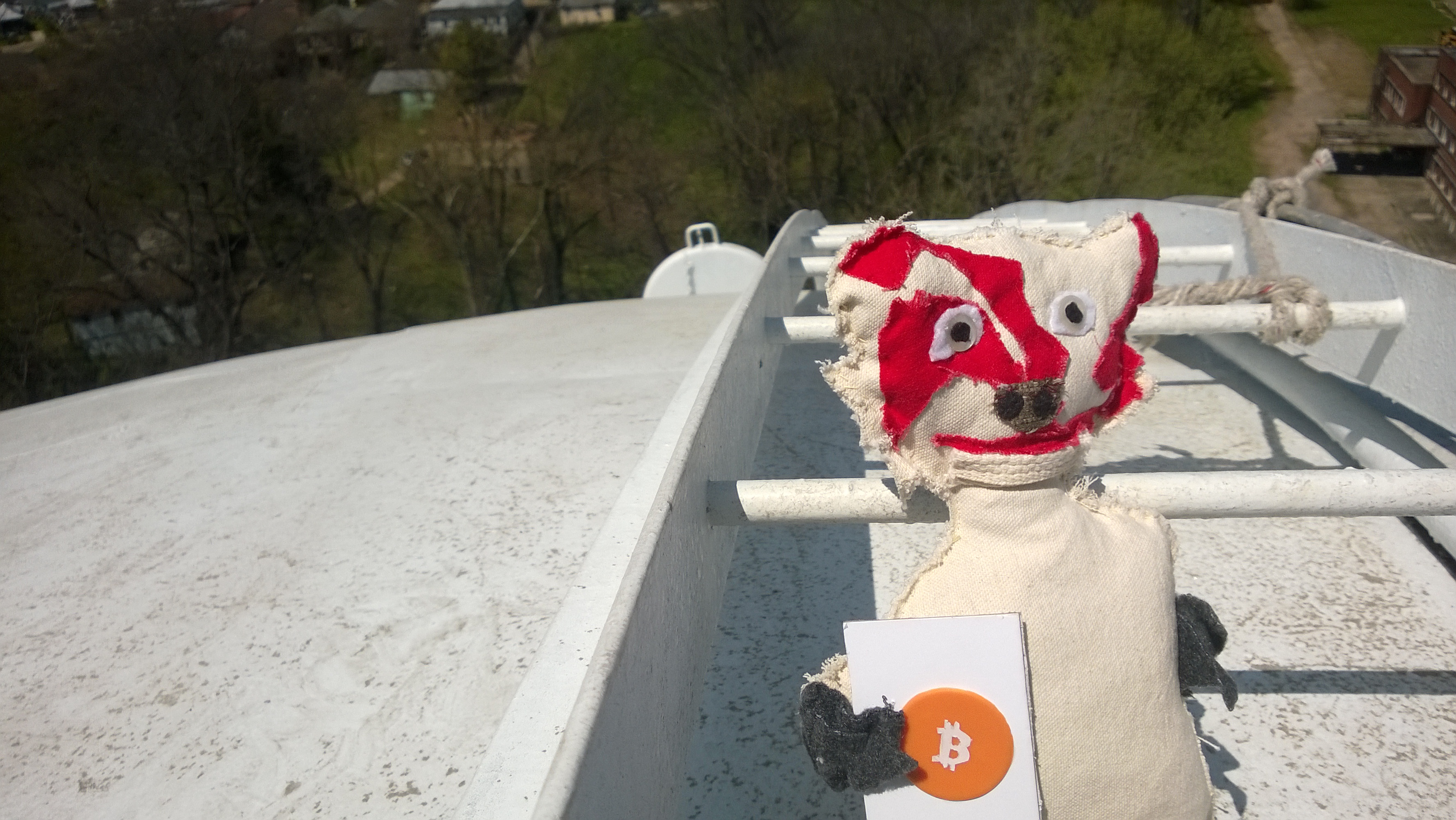 Please support Nandibear.com with a Bitcoin donation. Your donations help us with further development of the site and with creating video book reviews.
Continue reading →
---
---
March 1, 2016 - 11:33 am
by Nandi Bear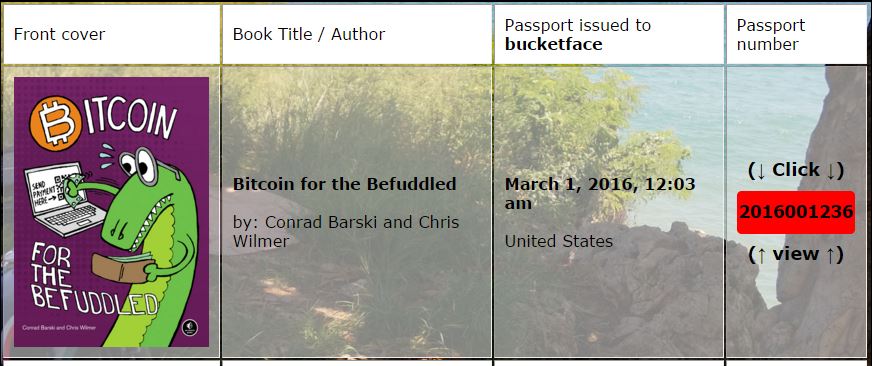 Late last night at some point past midnight it appears that bucketface got a passport (2016001236) for Bitcoin for the Befuddled
A few minutes later the passport was stamped in Chicago, Illinois with the following travel detail:
I've twice read Bitcoin for the Befuddled and now I'm sending it to a reader in Guam (the US Territory)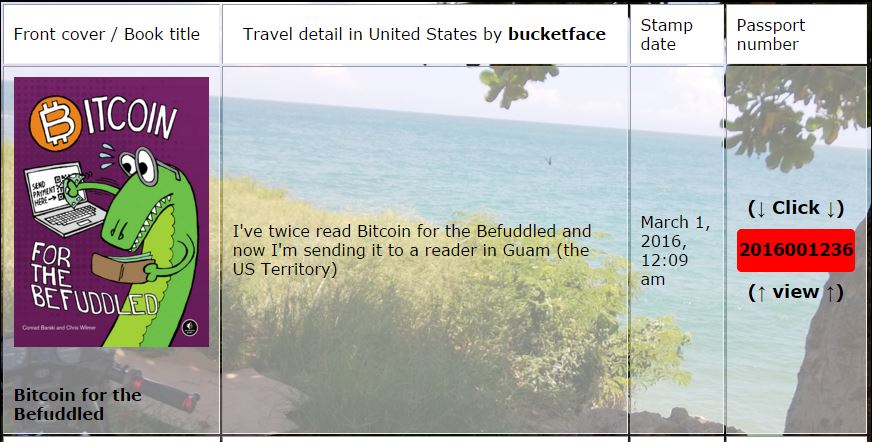 Thanks bucketface! We look forward to soon seeing a stamp update from the new reader in Guam!
Continue reading →
---
---